TdF ~ Day 1, 2008
06 July 2008
This year I'm, again, participating in the
TdF KAL
.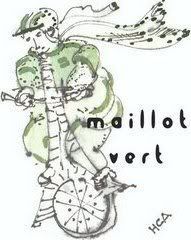 I entered in the "Maillot Vert" category and I'm planning on knitting a pair of TdF-inspired socks.
Yarn:
Pear Tree Yarn's Shades of Alpaca
. It's SO soft and gorgeous.
Status: after planning/pattern swatching/winding/knitting/frogging/planning, I started the first sock during the first day of the TdF.
The Race: Again, I'm cheering for Robbie McEwen and Cadel Evans. Go Silence-Lotto! Go Aussies!
Labels: KALs, socks, TdF, yarns
Copyright ©2006 - 2008 by OzKnitter. All rights reserved
6.7.08 :: ::

2 Comments:
OzKnitter
::
permalink