Day 7 - TdF07 ~ "Canterbury Dash" Socks
14 July 2007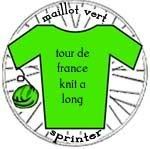 Mesdames et messieurs, je présente mes nouvelles chaussettes "Canterbury Dash".




Pattern: Canterbury Dash (my own)
Needles: 2.5mm & 2.25mm DPNs
Yarn: Lana Grossa Meilenweit Colortweed #1004
Thoughts: These were quick and fun to knit. I made the pattern up as I went along. The yarn looked 'greener' in the ball (I pulled it out for the stash to used for the TdF KAL, figuring I'd inspire Robbie to win lots of "maillots verts") so I was surprised at how 'blue' the socks turned out. Not to worry though, blue is one of my favourite colours, and I love the socks!



Now, beacause you asked...




That's the hole in my finger from the 2.25mm metal DPNs. I'm a "thrower" and I push the needle back with my left index finger, hence the hole. *sigh*

Now to decide what's next on the needles...
Labels: Canterbury Dash, DPNs, FO, KALs, Lana Grossa, SAM3, socks, TdF
Copyright ©2006 - 2008 by OzKnitter. All rights reserved
14.7.07 :: ::

8 Comments:
OzKnitter
::
permalink